Revealing Operational CRM in E-Business
Operational CRM in E-Business are customer-facing applications that integrate departments that deal directly with customers with other departments in the organization, this may also include touchpoints. This at times covers Sales Department, Marketing Department and the customer services.
Operational CRM has much to do with transactions that are meant to gather the information that is needed in order to achieve specific tasks in organizations, most especially customer-centric Enterprises. Some of the examples include Sale Force Automation (SFA), Telesales, Call Centre Management among others. Operational CRM provides supports for staffs that deal directly with the customer in a CCE.
Under operational CRM, interaction with the customers can take various forms such as personal contact, post, fax, telephone and the internet. All these are referred to as Touchpoints. All these are relevant when promoting sales to customers.
A communication or customer service centre can serve as a medium for communicating with the customer. Through it's customers' issue can be resolved. It can also be used as a medium for introducing new products to the customers. The operational GRM integrate the various channels through which customer interacts with the organization. The various department in the organization also uses it as a medium of interacting with one another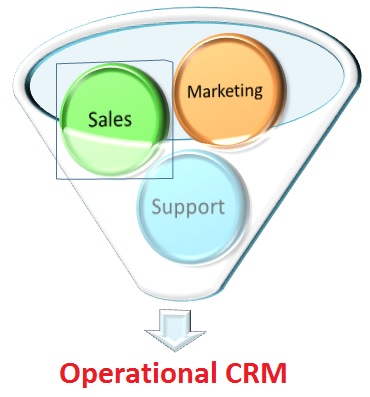 Operational CRM applications are used by the department that relates directly with customers but these are linked up with the back office, that is, those that do not relate directly with customers. Through it also,  the sales department can have access to update information about customers which they can use in meeting customer at the right place with the right products.
SALESFORCE AUTOMATION
Salesforce Automation is one of the applications used in CRM to increase sales prospect of an organization. SFA automates information. They allow for the design of the sales team based on defined criteria
One of the capabilities of SFA is calendar management. This can be used to managed important events and appointments and other dates that are important in the life of an organization.
We also have sales reporting and forecasting which is also a very important tool in SFA. It helps sales executives to predict the market before setting out. They will be able to identify people that will really need what they have for sales. They will also be able to identify the needs of the markets. This will help them to close in faster on deals.
We also have a lead distribution which distributes contacts and details of prospective customers to the sales representative so that they can follow up on it. The application automatically distributes leads to sales staffs to work on. The SFA is also capable of tracking customers and prospects' contacts. Some SFA also provides internal and competitive product information  They allowed customers to have access to there price catalogue and provide valuable information about the competitors. Sometimes they provide information about customer-centric events.
The SFA provides software that enables sale departments to come up with better ideas and perform better.
Benefits of SFA
#1 Increasing the Efficiency of the sales force as part of Operational CRM in E-Business
The SFA allows organizations to perform effectively by ensuring that the sales team of the organization are able to perform better. Once they have reliable data about there prospects and customers, they will know what particular customers want and meet them at the right place with the right product and services
#2 Timely Sharing of Data as part of Operational CRM in E-Business
SFA allows an organisation to share reliable data with there customers. Once the SFA is online 24 hours in a day and seven days in a week, it will allow customers and a prospect to have access to reliable and up to date information that they need in order to make there decision.
#3 Shortened Sales Cycles
SFA also allows salespeople to have a faster closure of deals. Much of the necessities that have to do with going to the market with the wrong product and services are eliminated once the organization is able to find out through market research, what customers want. This helps in hastening up sales-cycle.
#4 Field Reporting as part of Operational CRM in E-Business
This is another important feature of SFA. It allows the organization to send there reports to the back office in the organisations which allows them to link up and come up with strategies and programs which will allow the organisations to meet the customer at the right place with the right products.
#5 Access to useful customer Information as part of Operational CRM in E-Business
SFA allows various departments in the organisations to have access to a uniform database that has the customer information. A situation where the back office does not have access to customers' information; it will not help policymakers in the organisation to put customers' into consideration when they are making decisions.
The main reason for implementing SFA is to provide the sales force with ways to leverage technology to achieve operational efficiency. SFA will also allow the organisation to have up to date information about there sales activities and most importantly their customer information.
SUMMARY
Form this article, we have been able to discover that:
Operational CRM are applications that are used by departments that have a direct relationship with the customers to manage the relationship with them

We can divide service automation into three which includes: Agent-based services, self-service and field service.

Salesforce Automation is the collection and distribution of sales information.

Benefits of STA includes: Increased efficiency of the sales force, timely sharing of data, shortened sales cycle, field reporting and access to useful customer information
Brainstorming Session
What is Operational CRM? Why is it relevant to a CCE?

Discuss SFA.

What are the benefits of SFA?

Why do you think an organisation need to automate SFA?
Now your take on this argument.
We would also like to hear what you feel about the topic we discussed today. Your feedback is very important to us. Feel free to drop your comments and recommendations. If you have a contrary opinion, you can drop that too.
You can also like our Facebook Page CRMNigeria for more updates. You can do that by clicking on the link or searching for our page on Facebook.
You can also become part of our WhatsApp Group Here.
Enter your email address to get updates when we post our next article. you have to click on the link in the email sent to you to confirm your subscription. If you have been receiving our email updates and it is no longer active, please subscribe again.:
Delivered by FeedBurner
" This Post Was First Published On CEHNigeria "