Examining Customer-Centric Philosophy In CRM
We will also talk about what you need to know about your profitable customers.
When we talk about CCEs, we are talking about ways by which an organization tries to do business from the customers' perspective. Whatever form an organization adopts in order to be customer-centric, it is always aimed at acquiring new customers, customer retention and increasing customer profitability.
Acquiring New Customers as part of customer-centric philosophy
If an entrepreneur wants to start a new business, he first has to think up the right idea. You have to make sure that you are producing what is needed by prospects rd customers in your vicinity. One thing you should know is that a portion of your resources should be committed to acquiring new customers for your products and services.
In a customer-centric enterprise, acquiring new customers is one of their top priorities. You sho2d understand that organizations operate competitive environments where they have to compete for existing prospects and customers the market square. They always achieve this through the superior customer in service and an increase in customer experience. They take even' opportunity to delight their customers.
In acquiring new customers, communication is very important. You must be able to get the right information to the right target in the right manner. The organization must be able to project the right image of the organization. They would achieve this by projecting the profiles of the companies' best customers.
Retaining Customers
Once an organization acquires a new customer, they have a more serious task at hand, which has to do with retaining the customer and preventing loss of customers to competitors. In retaining your customers, you have to understand the relationship between the company the brand, the channel of distribution and the customer Competitors always try to draw away customers through innovation and incentives which are meant to draw customers from another life cycle.
In a survey conducted by Deloitte and Thuch6, it was discovered that it cost five times as much to acquire a new customer as it does to keep an existing one. Another research conducted by Fredrick Reicheld reported that five percent retention in customers over their lifetime results in an 85 to 125 percent increase in company margin over that same time period.
In retaining customers when using

a customer-centric strategy

, the organization must be able to communicate information about new products and innovations to the customers in real-time. They must do this throughout the entire tenure of the customer with the organization. This must also be passed through the appropriate channels that the customer prefers.
The firm in retaining with their customers when using customer-centric strategy must be able to know their customers very well. They have to study customer interaction and use the knowledge to their own advantage. They must be able to know when their customer is changing and utilize the knowledge in formulating a better CRM for them. they must set up an appropriate messaging process aimed at getting a repeated purchase from their customers.
A customer-centric enterprise must keep track of the satisfaction level of its customers through appropriate feedback mechanism aimed at knowing the response of their customers to their products and services. They should be able to suggest to customers more ways of deriving more benefits from the product. When an organization can increase the utilitarian benefits of their product, it will make customers come for more of such product/services.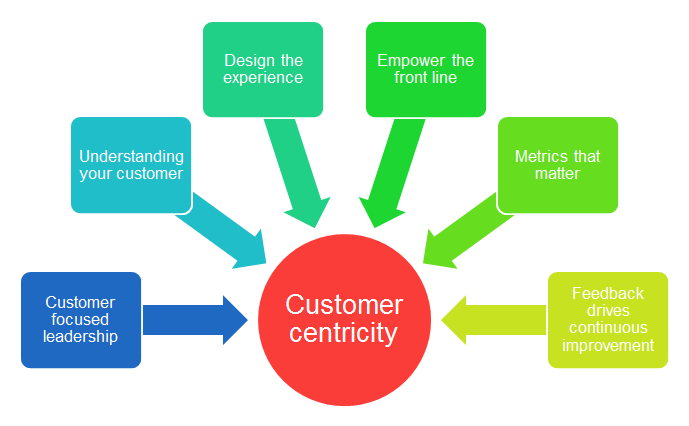 In order to retain customers when using customer-centric philosophy, organizations must come up with loyalty programs aimed at increasing the frequency and involvement level of the customer One of the ways of measuring this involvement is Life Time Value (LTV) which aims at assessing the profitability of customer over his lifetime with the organization.
Lifetime value is measured in terms of historical and projected lifetime value. It allows the organization to begin to allocate marketing resources by a segmented group and individual levels.
In Customer-centric philosophy, with the aid of technology, you can calculate what you can invest in a particular segment over a particular period of time. For example, Etisalat Nigeria can decide to invest more money in the youth segment than in the working class or elite segment.
Note: Reactivation or retention is critical to the success of customer-centric enterprises.
If a customer is perceived to be profitable, the enterprise will require five kinds of information to be gathered. These include:
Customers' want and needs

Customer purchase cycle

Customer interaction opportunities

Customer profile

Customer lifecycle
Customer Purchase Cycle: This is the period between the customer's first purchase and the next purchase. The organization must also take note of the likelihood of additional purchase and the nature of purchases made by the customer
Customer Interaction Opportunities as part of customer-centric philosophy: Tm water to enhance customer loyalty, a customer-centric organisation must maximize interaction with the customer organisation. This is where touchpoints became necessary.
Customer Profile as part of customer-centric philosophy: Any organizations that wish to relate and retain its customers when using customer-centric strategy must have a robust customer support services in order to have a formidable customer service. The organization must have enough information about their customers. It is might include it relationship they have, the size.
Customer Life Cycle as part of customer-centric philosophy: The customer lifecycle of an organisation traces the lifetime of a customer as it relates to his product use.  It starts with the use of the product to the time that the customer disengages or die as the case may be.  The organisation must be able to predict the behaviour of its customers and predict his next move in order to prolong his stay in the organization's Life Cycle.
The purpose of evolving into a customer-centric is not for profit motive but it can help in saving costs through the increased effectiveness of the organisations' internal processes.  If the internal process is well developed, it will increase the return on investment in a CRM initiative.
SUMMARY 
In this chapter, we have looked at the customer-centric strategy.  We focused our attention on how to gain new customers and how to retain your customers.  We also said that it is better to focus on how the organisation will not lose customers to competitors because it will cost more to acquire new customers than to retain them.
We talked about what you need to know about your profitable customers.  These include:
Customers need and want

Customers purchase cycle

Customers interaction opportunities

Customers profile

Customers Life Cycle
BRAINSTORMING SESSION 
Discuss the relationship between the Internet and CRM.

Discuss CRM and Globalization

Do you think CRM can work without technology or software?
Now your take on this argument.
We would also like to hear what you feel about the topic we discussed today. Your feedback is very important to us. Feel free to drop your comments and recommendations. If you have a contrary opinion, you can drop that too.
You can also join our Facebook Page CRMNigeria for more updates. You can do that by clicking on the link or searching for our page on Facebook.
Action Point.
You need to confirm your subscription by clicking on the link sent to you. You can check the spam folder for it. Add us to your mailing list to receive directly from us.
PS: Click on the link below to sign up for my Online E-Course CRM Training. Make sure you confirm your subscription by clicking on the link sent to you. Thanks.
" This Post Was First Published On CEHNigeria "